Walk This Way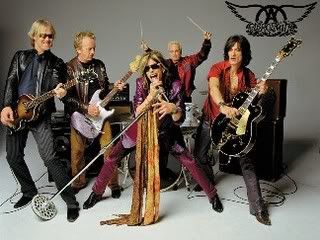 I have been to a few concerts. Not many, but a few. Most were because Hubs made the choice to see someone with his friends and I agreed to go along. Seriously. We saw a few concerts, and for the life of me I can't remember getting past the opening acts.(It was 1980-83). But I do remember seeing Jerry Garcia-Acoustically and solo! It is etched in my mind (8th row, center) We also saw Genesis every year at Thanksgiving for about 5 years. They always did an amazing show!
I think that at about this point-5 years into our marriage-Hubs and I came to a musical fork in the road. He preferred Bruce Springsteen and Billy Joel, while I had a thing for the Ramones, the Police and the Sex Pistols. We also had two little boys. Needless to say, we started going to fewer and fewer shows until we stopped altogether.
Flash Forward-2003. Son1 is now 23 and for my birthday he got tickets to see Aerosmith.Just him and his mom! (Here's the part where you say 'aww') We saw Kid Rock open for Run-DMC who segued into 'Walk This Way' with Aerosmith. This was the night I learned that I could stand on a fold-up seat, in heels, and dance. Awesome doesn't describe it!
We had so much fun that we did it again the next year. Only this time we went with Dave and Katie. Dave grew up three doors away from us and Katie was his new bride. Three days before the concert I had rotator cuff surgery(shoulder) and we didn't know if the doctor would let me go, but he was an Aerosmith fan too, so he said,"See ya there!" Well, since we waited so long to get our tickets, we got seats in the nosebleed section-also known as the 'loser' seats.But it was better than no seat at all, right?
Luckily for us, one of Katie's bridesmaids worked in the ticket booth. She called Katie's cell phone to tell us she had an upgrade for us. It was a little to the left of the stage but at least it wasn't the worst seat in the house. We ran, because the show was starting and OH MY GOD!!! We were in the front row–right next to a ramp! During the show, Steven fucking Tyler and Joe Perry both used this ramp.!!I was in hea-ven! At one point I begged my son to grab half of my shirt so I could flash Steven but Son1 gagged and screamed,"NO!" Dave offered to help a girl out, but then Katie gagged and screamed,"NO!" So, no boobs. RATS! But I did get to see those sexy guys thisclose.
Now Son2 is afraid that if I go to a concert with him I'll try flashing again or maybe I'd try going into the mosh pit. That's one thing I know I'm too old for. But I'd still like to go. I'm not using a walker or depends yet, so ya never know. I never say never.
13 Comments »
{ RSS feed for comments on this post} · { TrackBack URI }
Leave a Comment